Had lunch with Magdalene but there isn't any pictures taken together with her. Too busy catching up about our lives, I hope I could meet her again soon.
Left early and went shopping. Bwahaha!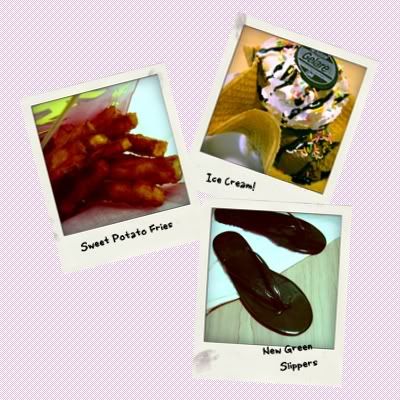 The new Shih Lin Sweet Potato Fries taste really nice and it costs $2.50, quite expensive for a small bag of fries.
Ice cream at Gelare was great but I don't quite get what the waiter was talking about. I just wanted to change the flavour of the scoops and he keeps going on about the chocolate combination because of the 'Nutty Chocolate' name. Then cannot change to other flavours but can change the flavour for the other ice cream instead. Like 'what the heck?', I don't see the difference. Haha! Whatever...
I bought a new pair of green slippers from M)phosis, the usual price was $24.90. The slipper was on a 70% off sale, kwakakaka~ Only $7.50! Gonna wear it to my chalet the following weekend.