Mummy actually want us to wake up at 8am and start our way to Johore Bahru at 9am. I really don't think there is any need for that, reach so early for what... The shopping mall is not even open yet.
I reach home at 9.45am, changed my clothes and started our way at 10.15am. There was quite a lot of people at the custom, so we reach around 11.15am, timing was just nice. We took a cab to
Tebrau City
. I treat them to lunch at Food and Tea Restaurant (Hong Kong Cafe). =)
Sunrise drink, RM6.30.
Purple Rain, RM6.30. But but... the colour is blue...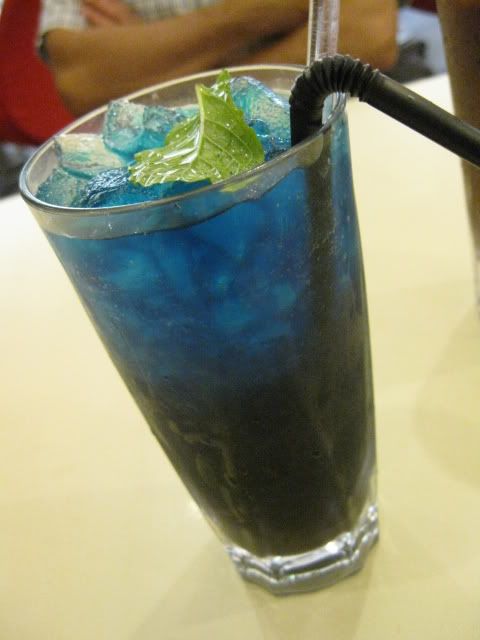 Iced Coffee in "Hong Kong" Style, RM3.
Mummy ordered a Sweet and Sour Pork Skewer with Ramen, RM6.80. (What a long name~ O.o) The ramen noodle is the one which tasted sweet and sour, not the pork skewer. 3 stars.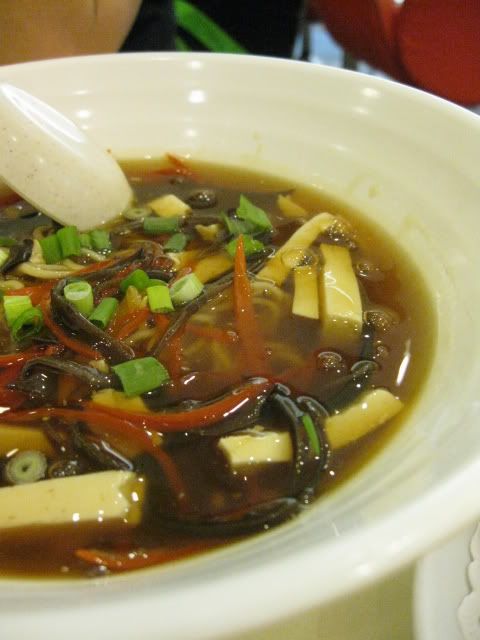 Pork skewers which comes with the ramen.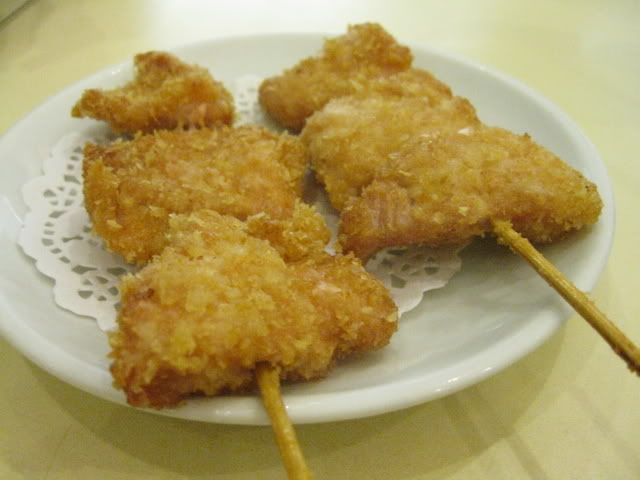 Claypot Salted Fish "Lao Shu Fen", RM7.90. Nice but it gets more salty later on after eating quite a few mouthful because of the salted fish. 4 stars.
Black Pepper Beef Spaghetti, RM8.90. Mummy says there is a buttery smell, but I think that is just the smell of the beef. 3.5 stars.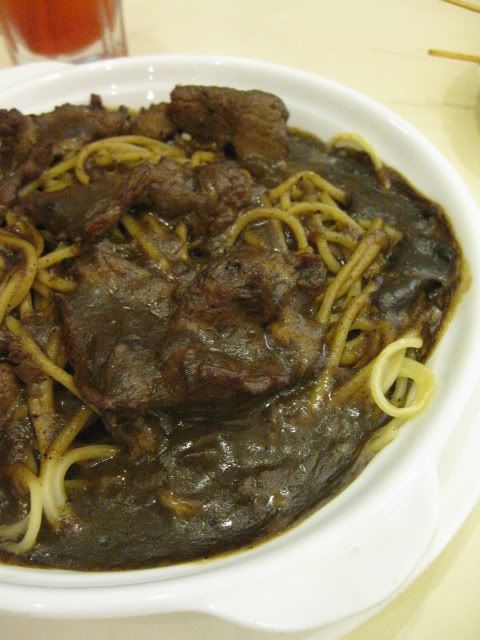 Pork Chop Burger in "Macau' Style, RM5.50. I find the pork chop too dry and tough. 2.5 stars.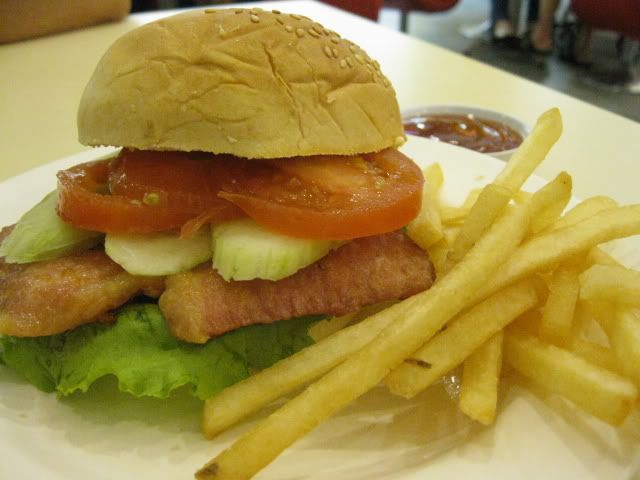 Sister treat us to macha ice cream. Delicious~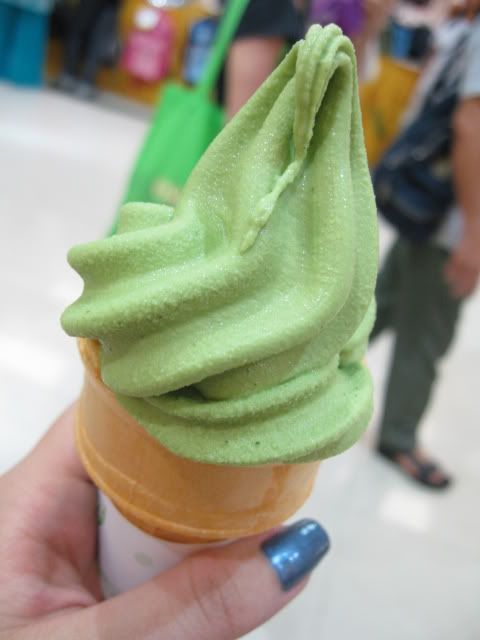 We went shopping around Jusco after lunch, sister and I bought new bras for only RM10 each! Damn cheap! It looks like Sloggi (don't have the cheapo look) and the colours are cute. Hehe~
I also bought a new pair of heels, only RM55.20 with 20% off. This is the last thing I bought, cause I only have RM3 left after that. =P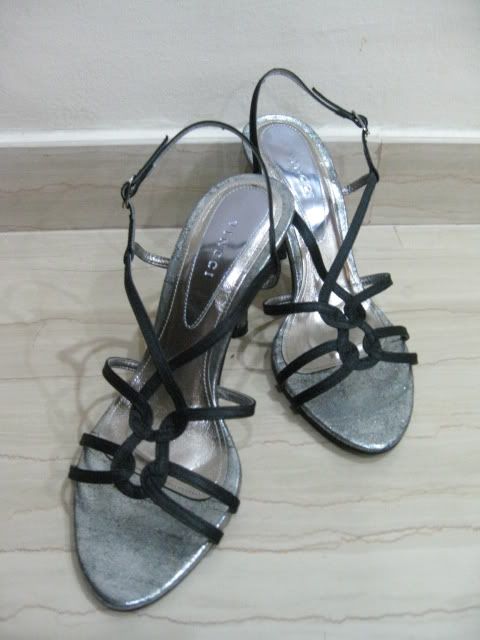 The Christmas decoration...
We set foot at the new shopping mall beside Tebrau City, TESCO, it's my first time there. We saw a really big gingerbread house, cute~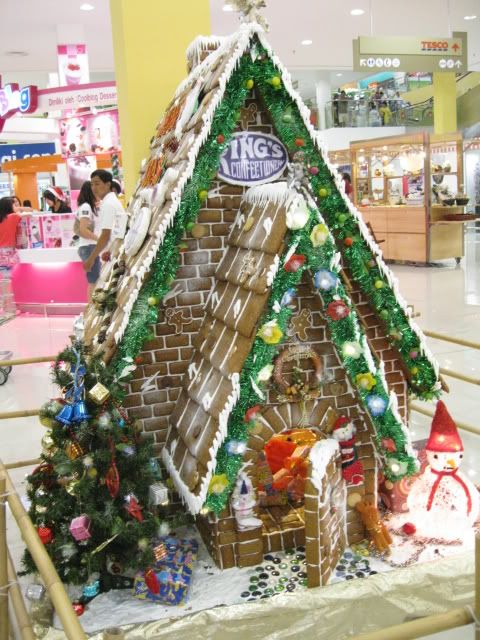 Mummy and daddy. =)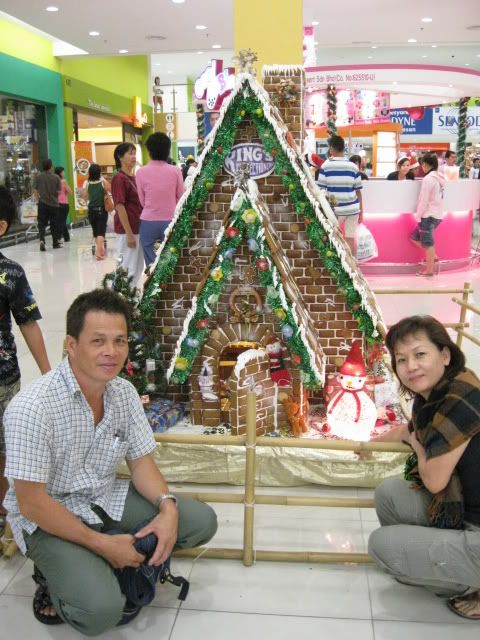 There is also Sweet Talk, same price as Singapore, I mean same digits. So cheap, so sister and I had 1 cup each.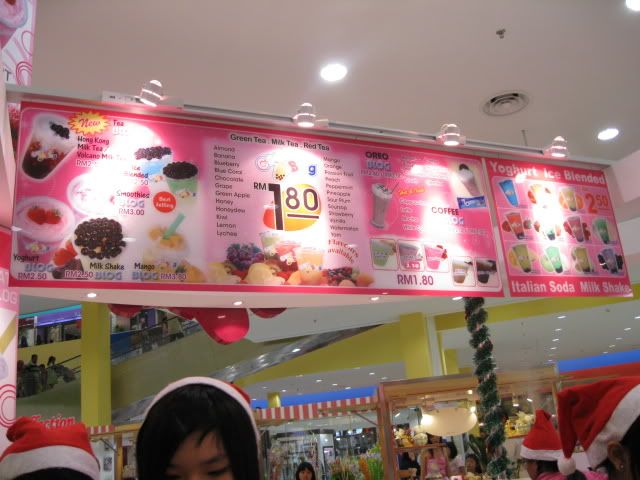 There isn't anything much to shop in TESCO, so we had an early dinner at Vietnam Kitchen.
I like the way they decorate the restaurant. So many pretty lanterns.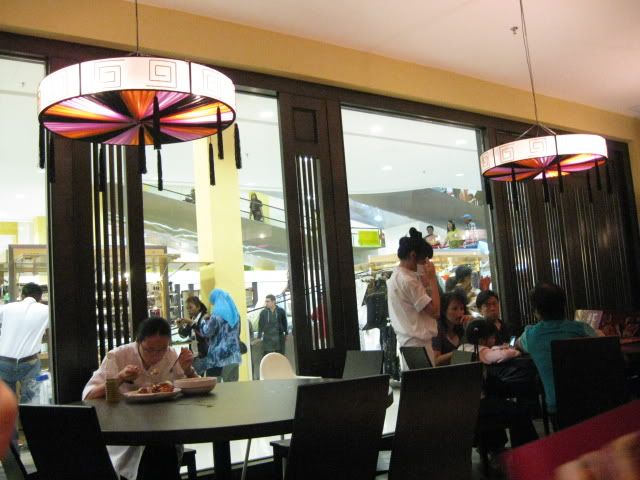 And a lot of Vietnam hats.
The waiter serve us a plate of peanuts, this cost us RM2. It just taste like the canned ones.
Daddy looking at the menu. Shuai~!~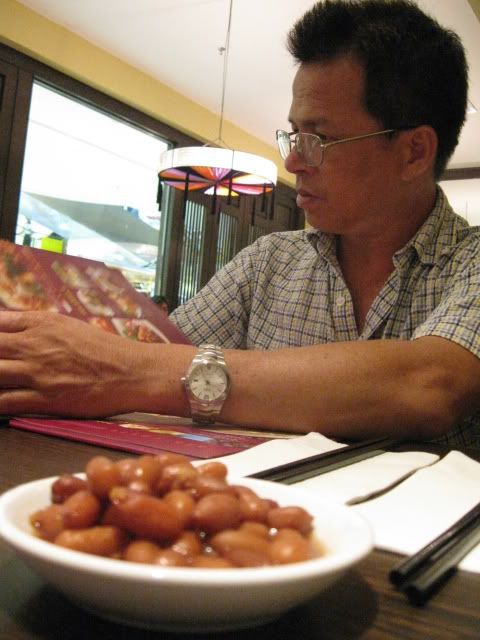 Mummy~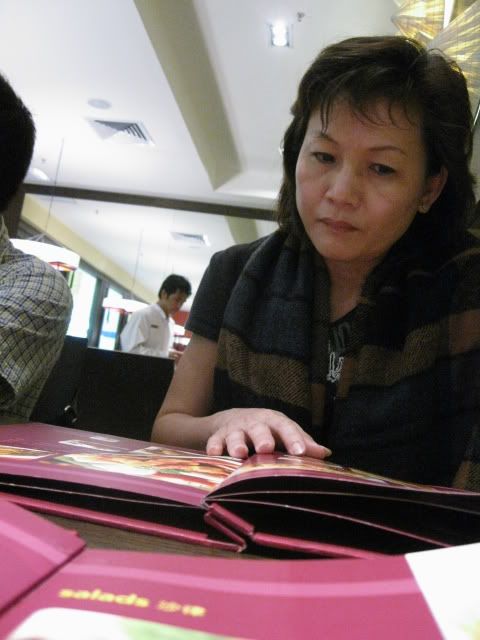 Vietnam Filter Hot Coffee, RM6.50. The coffee is drips down from the metal tin. Tastes different from the coffee that I have drank before, dad added too much creamer, so it was too sweet. I give the coffee 4 stars.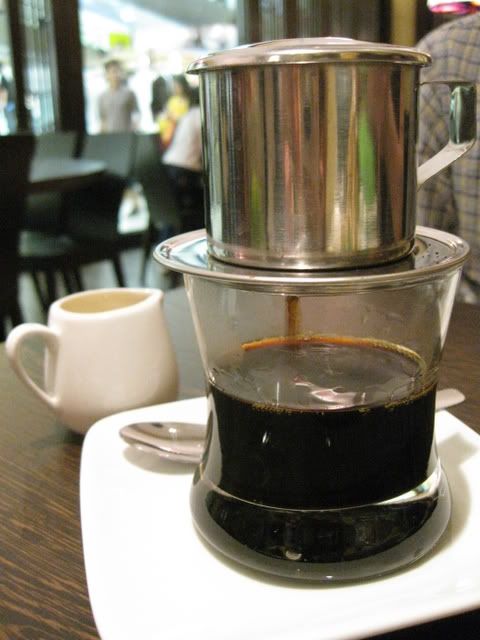 Inside the metal tin after the coffee has finished dripping.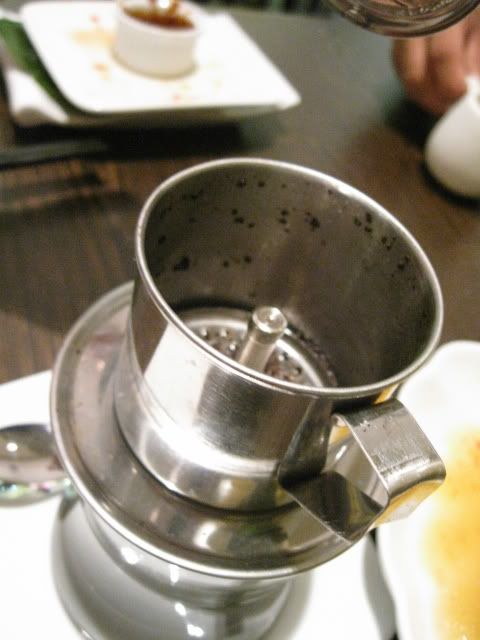 Green Apple Mint Soda, RM6.50. I don't taste the green apple but the minty smell was good and refreshing, I'll still give 3.5 stars for this drink.
Fresh Prawn Roll, RM6.90. Dip them in roast duck sauce, mmm... I give this 4 stars!
Fried Mango Prawn Roll, RM6.90. Fragrant and it tastes really good with the mayo, 3.5 stars.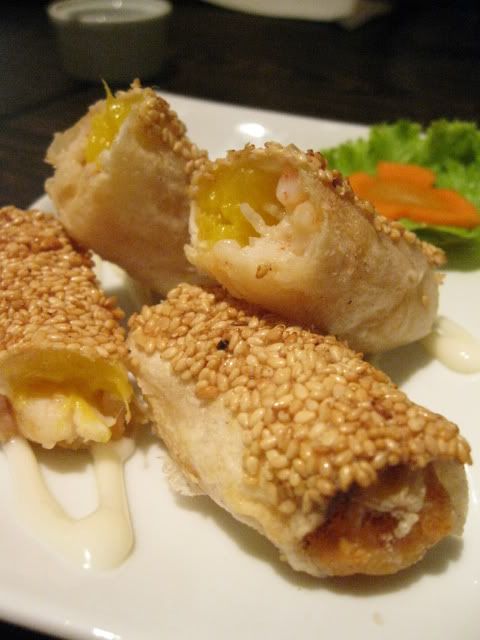 Saigon Seafood Noodle, RM12.90. I don't know how to explain this but I give this dish 4 stars. Very well done, the ingredients used is really fresh!
Mummy says the noodles look nice on my plate. -_-"
Vietnam Fried Rice with Chicken Wing, RM10.90. The fried rice is very fragrant, all of us had our thumbs up and the chicken wing is very very nice too! The sambal chilli which comes along is really good too. I think I'm addicted to the fried rice. 5 stars for it!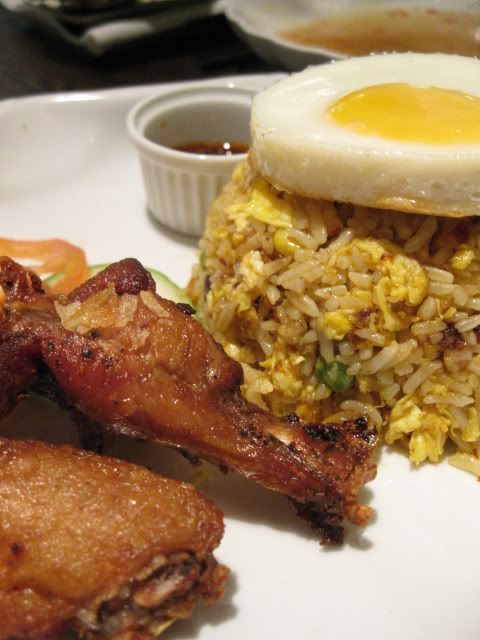 Spring Onion Cake, RM6.90. I think it tastes more like chives and the meat floss really compliment with it well, 3.5 stars for this.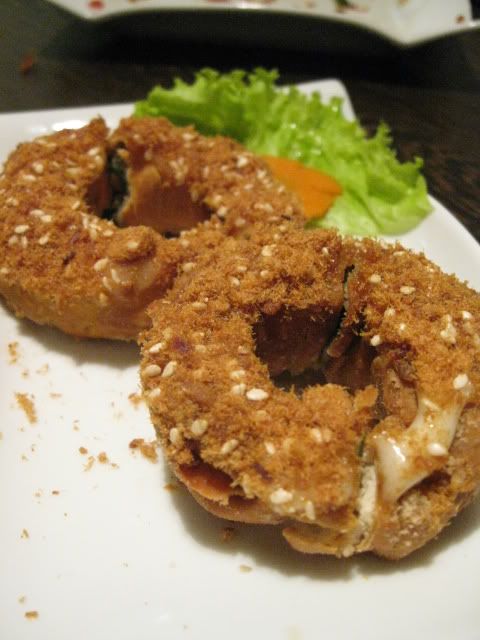 Pepper Prawn with Crispy Flakes, RM22. Yes, RM22 with only 5 prawns but it was really worth it. The prawns were fresh, big and tender, the taste if this dish was really good that all of us just went speechless and we just focus on tasting it. I wanna have more of it, 5 big stars!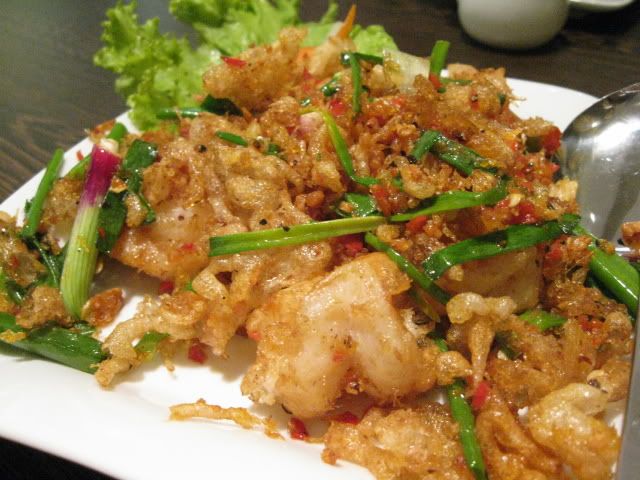 Net Spring Roll with Yam, RM6.90. This was really fragrant too, till my sis left had it last before leaving the restaurant, 4.5 stars.
I'm totally satisfied with our dinner, Mum paid for it and all of us are happy. =)
Pack dinner for brother from Laksa Shack. RM15.90. I think this is enough for 2 person, the gravy of the chicken was good.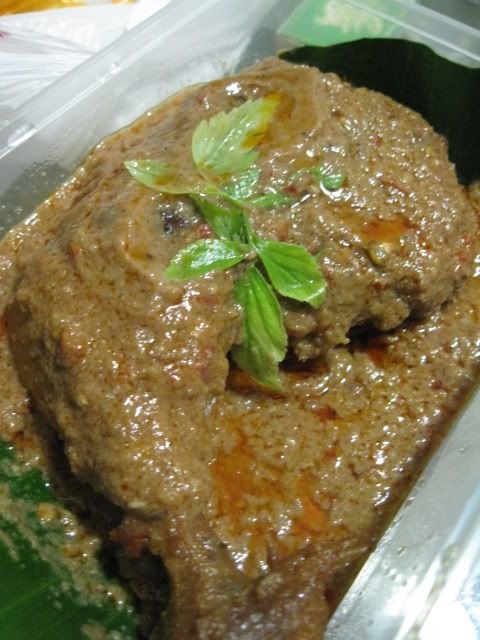 Another box of rice and crackers.
Little side dishes...